Tiger Beer celebrated Bruce Lee's 65th birthday with exclusive screenings of 'Enter the Dragon'
Tiger Beer, in association with Firecracker Media and City Screen, had screenings across London to celebrate his 65th birthday on Sunday 27th November.
In the first of a series of Asian Classic film evenings Tiger Beer is set to bring you five exclusive screenings of the legendary 'Enter the Dragon', the last film to be completed by Lee before his untimely death in 1973. This is ultimately Lee's most famous film, which propelled him into the spotlight of mainstream Western cinema.
The Tiger Beer sponsored screenings, held at City Screen cinemas in London, are part of a wider celebration of Lee's life. The screenings will begin with 'Enter the Dragon' being screened at 00:01 on Sunday 27th November at the Ritzy cinema in Brixton. Additional screenings of the film will be shown throughout the week to continue the celebration of Lee's birthday.
The screenings will take place at the following City Screen venues below.
Ritzy, Brixton, London on Saturday 26th November at 10:30pm
Greenwich Picturehouse, London on Tuesday 29th November at 8.00pm
Stratford Picturehouse, London on Wednesday 30th November at 8.00pm
Gate Cinema, Notting Hill Gate London on Friday 2nd December at 10:00pm
Clapham Picturehouse, London Saturday 3rd December at 10:30pm
Bruce Lee, voted one of the top movie stars of all time by Empire magazine in 1997, has an unrivalled iconic status in the film industry which is not solely confined to the Kung-Fu movie genre. His popularity is wide ranging as Brian Harrison from Bruce Lee Fan Club UK testifies, "Bruce Lee is one of the most engaging action hero's of all time. His charisma both on and off the screen only add to his legend."
Enter the Dragon was the first martial arts movie to become an international blockbuster and the first movie Lee made outside of Hong Kong grossing more than $200 million since its release. Lee's cinematic success spawned a global industry of the martial arts, and schools opened and flourished worldwide. During the 1970s more students took up the study of martial arts than at any time before or since. To those involved in martial arts, the years from 1972 to 1975, the height of Lee's popularity, are often cited as the Bruce Lee era. Lee was also responsible for creating his own fighting style, Jeet Kune Do, which shares many of its principles with other martial arts.
Under the Tiger Eye banner, Tiger Beer is proud to support the rise of Asian film in the UK. Over recent years Tiger Beer has built up a strong reputation of supporting key Asian film events such as the Tiger Beer Tartan Asia Extreme Film Season and launched their own Tiger Eye Film Awards, in early 2005. These exclusive Bruce Lee screenings form the first part of Tiger Beer's ongoing Asian Classics film screenings which will continue to take place throughout 2005 – 2006.
Bennet Neo, MD Tiger Beer UK, "Supporting and promoting key dates in Asian film history is important to Tiger Beer as we remember the roots of Asian film culture. Bruce Lee is a remarkable figure in the film industry and his 65th birthday is a significant date to be marked by a significant celebratory event. We are passionate about the growth of Asian film in the UK and see this emerging genre as something which should be enjoyed, celebrated and more widely recognised."
Erika Franklin, MD Firecracker Media, "Having supported and hosted our own Asian film showcase over the last couple of years we are excited at the prospect of partnering with Tiger Beer to bring Asian film classics such as Bruce Lee into the UK film arena. Events such as these help raise awareness of the powerful nature of Asian films in the UK and we will always look to support them."
In addition to the events in the UK, a week long festival in Hong Kong organised by the Bruce Lee Club and supported by the Honk Kong Tourism Board will culminate in the unveiling of an iconic statue on the Avenue of Stars on Hong Kong harbour on Lee's birthday.
For further information on Tiger Beer please contact:
Adam Paris/Andrea Christopherson
Bite Communications
020 8741 1123
e-mail tiger@bitepr.com
About Tiger Beer:
Tiger Beer has won international praise and recognition for its consistently high quality and distinctive taste and is enjoyed by beer drinkers across five continents. It is now the leading beer brand in Singapore and Indo-China. A 5% lager beer made from the finest malt barley, yeast and hops, Tiger Beer is brewed according to strict quality control and process management in breweries throughout Asia. A total of no less than 250 quality control checks are in place to ensure the smooth and consistent flavour that Tiger drinkers have come to expect. Tiger scored a major achievement by winning the prestigious 1998 Brewing Industry International Championship Gold Medal, making it the best lager in the world.
About Firecracker Media:
Firecracker Media Ltd is a fast-developing and dynamic company specialising in bringing East Asian cinema to the UK through their online magazine, events and film sales.
About City Screen:
Since start-up in 1989, City Screen has become one of Britain's leading independent exhibitors, operating cinemas branded as Picturehouses. With strong links to university cities (Oxford, Cambridge, York, London, Brighton, Exeter & Aberdeen), City Screen has taken a leading place in the arthouse cinema market.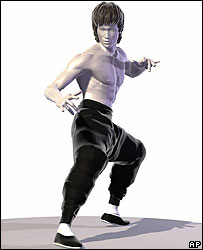 News just in Bruce Lee fans have chosen the design for a statue of the kung-fu icon, to be unveiled in Hong Kong in November. The Hong Kong Club has asked the government to contribute towards the cost of casting the bronze tribute. More than 57,000 fans took part in the internet vote. The winning design shows a bare-chested Lee in a pose from his 1972 film Fists of Fury.
The club has government approval to unveil the statue on 27 November on the Avenue of Stars, a tourist attraction on the city's harbour front, to mark Lee's 65th birthday. The statue will be made by Chinese sculptor Cao Chongen, whose works include a statue of China's former leader Deng Xiaoping.
Bruce Lee in Hong Kong
Bruce Lee Festival – Hong Kong 2005
25th Nov – 1st Dec
Organizer: Bruce Lee Club Supporting Organization: Hong Kong Tourism Board
The Bruce Lee Statue will be unveiled on 27 November 2005, which would have been Lee's 65th birthday. To mark this special event and as a tribute to the star, the Bruce Lee Club is organizing a week-long Bruce Lee Festival, which is supported by the Hong Kong Tourism Board (HKTB).
Contents of Event
Unveiling Ceremony of the Bruce Lee Statue
27th November, 2005(Sunday) 6:00pm to 6:30pm
Venue:Avenue of Stars, Tsim Sha Tsui
The representative of Hong Kong Government and Mr. Robert Lee will be invited to officiate the unveiling ceremony
Bruce Lee Night
27th November, 2005(Sunday) 6:30pm to 8:00pm
Venue:Avenue of Stars, Tism Sha Tsui
Sharing session with Bruce Lee's family members, friends, as well as those Hong Kong famous artists whom openly admire Bruce's legacy.
Martial Arts Demonstrations: Wen Chun and Nunchaku
Bruce Lee Cosplay Competition
Bruce Lee Quiz and Lucky Draw
Bruce Lee's Footsteps Tours
Hong Kong Local Tours
Escorted by members of the Bruce Lee Club to explore the Footsteps of Bruce Lee's Life in Hong Kong – the places where Bruce Lee lived, studied, learned Kung Fu and Movie Shooting.
Bruce Lee's Home Town Tours, Shunde, China
Explore the origin of Bruce Lee's Family in Jun-an village, Shunde's Bruce Lee Museum, Master Wong Fei-Hung Lion Dance School, Fo-Shan Temple, and Master Yip Man Memorial Hall.
(BOOKING REQUIRED. The details will be announced very soon!)
Bruce Lee Walk-in Movie Show
25th November – 1st December, 2005
Present Documentaries and Movies of Bruce Lee at the Overhead Screen of AOS
Nightly Broadcast at 8:30pm
Free Admission, No Seating Provided
25th Nov: Bruce Lee : The Man and the Legend
(1973/ Colour/ Cantonese/ English subtitles/ 85 mins)
26th Nov: The Kid
(1950/ B & W/ Cantonese/ Eng & Chin subtitles/ 108 mins)
27th Nov: Dragon Since 1973
(2003/ Colour/ Cantonese/ English subtitles/ 126 mins)
28th Nov: A Myriad Homes
(1953/ B & W/ Cantonese/ Japanese subtitles/ 113 mins)
29th Nov: A Son is Born
(1953/ B & W/ Cantonese/ Japanese subtitles/ 114 mins)
30th Nov: An Orphan's Tragedy
(1955/ B & W/ Cantonese/ Eng & Chin subtitles/ 114 mins)
1st Dec: Bruce Lee Special Program on Celestial Pictures
(2004/ Colour/ Cantonese/ Chin subtitles/ 38 mins)
MOSTAR, BOSNIA-HERZEGOVINA –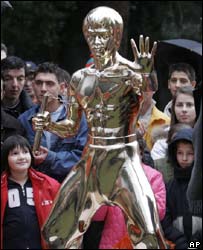 In the heart of Europe's war-torn Balkans, a land where it's hard to get people to agree on anything, there's one point of common ground: The new Bruce Lee statue will point north.

Unveiled in Mostar on Saturday 26th November, the 5-foot, 7-inch bronze likeness is the world's first monument to the late great martial arts star - edging out by one day the statue in Hong Kong. Bosnia-Herzegovina is about as far as one can get from the Hong Kong streets where the Chinese-American film legend unleashed his fists of fury.

Unfortunately, by the next morning, the nunchuck's chain and one of its handles were swiped, and the statue was surrounded by empty wine and beer bottles. A Mostar police official says, "We have received reports that the statue has been damaged. We are currently investigating the incident.