---
Brandon Lee

---
Brandon Bruce Lee was born on February 1 in 1965. He died on 31 March 2020 in the New Hanover Regional Medical Centre in Wilmington, North-Carolina, after a shooting accident on the set of The Crow ... 17 days before he was to be married to his fiancÚ, Eliza Hutton, in Mexico. On April 3 Brandon Bruce Lee was buried next to his father in Lake View Cemetary, Capitol Hill, Seattle.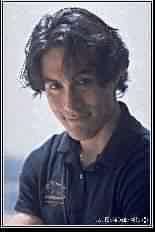 It is hard not to consider what might have been lost through the death of Brandon, a growing screen presence who manifested innocence and soul even with his characters' fits of rage. In time, Lee surely would have been a worthier action hero for the movies than a one-dimensional, feel-good clod like Steven Seagal. Now we'll have to wait for the wheel to turn again to produce someone worth caring about.
from the Film.com review of The Crow

TV

Brandon appeared in an episode of the Ohara TV series in 1987.
FILMS
Brandon's career spanned seven films. They were - in chronological order:
Legacy of Rage (1986)
Kung Fu: The Movie (TV) (1986)
Kung Fu: The Next Generation (TV) (1987)
Laser Mission (1990)
Showdown In Little Tokyo (1992)
Rapid Fire (1992)
The Crow (1994)
TEARS OF THE DRAGON
BRANDON LEE'S DEATH TURNS A FILM ABOUT HIS FATHER INTO A POIGNANT DOUBLE MEMORIAL by Tim Appelo When Bruce Lee died three weeks before the premiere of his 1973 martial-arts classic, Enter the Dragon, one Hollywood producer enthused, "His death was like a $2 million publicity campaign!" Such tasteless ghoulishness can repeat itself. When Lee's 28-year-old son, Brandon, was killed in an accidental shooting on the set of The Crow just a month before the premiere of Universal's Dragon: The Bruce Lee Story, a rival studio marketing executive said, "I'd kill for a break like that." But Dragon's cowriter-director Rob Cohen did not feel fortunate. After four years spent working with Linda Lee Cadwell, Bruce Lee's widow and Brandon's mother, to film the biography of the action-film legend, he felt devastated. "This thing with Brandon- it would have completely destroyed me, but she has this strength. I love Linda," says Cohen.
Although the director says Cadwell had no veto power over Dragon's marketing or release, he says he called her soon after Brandon died and placed the film's fate in her hands. Universal had been holding test screenings of Dragon, which stars newcomer Jason Scott Lee (no relation) and Lauren Holly of Picket Fences, since February, but Cohen says he was willing to risk the studio's wrath if Cadwell wanted him to alter the film or delay its May 7 release. "I asked her, 'Do you want me to cancel the premiere (or) get Universal to change the movie? I'll do my best,'" says Cohen. Cadwell, who had just buried her son next to his father in their hometown of Seattle, asked for a day or two to think it over. "It's all so horribly fresh," she told him. Cohen gave her time, still assuming that she might want to cancel not only the premiere but also her promotional appearances, including the dedication of Bruce Lee's posthumous star on Hollywood Boulevard's Walk of Fame.

Instead, Cadwell asked that the release of Dragon go forward as planned, with the now-painful scenes of Brandon as a baby kept intact throughout the film. She requested only one change: an end title dedicating Dragon to Brandon Bruce Lee, with an appropriate quote. Recalls Cohen, "I said, 'How about the Saint Augustine quote I had on the frontispiece of the original script: "The key to immortality is first living a life worth remembering." It applies to Brandon as much as it does to Bruce.' She said, 'Oh, that's perfect.'" Actually, Dragon was lucky to get made at all. Back in August 1991, Universal took a look at an early script, based on Cadwell's 1975 book about her husband, Bruce Lee: The Man Only I Knew, but the studio eventually rejected its strange mix of martial-arts action and woman's-eye-view romance.
When Cohen later sold another screenplay to Universal, MCA Motion Picture Group chairman Thomas Pollock and vice president of production Nina Jacobson suggested he take a crack at rewriting Dragon. The project then came alive, but a problem-plagued shoot in Hong Kong and Macao last year almost sank the $13.7 million movie. Even before cameras rolled, there were setbacks: Cohen had a heart attack on Feb. 6, 1992, and filming was delayed for one month while the then-43-year- old director recuperated. "Rob was a changed man afterward," says Jacobson. "He cut his cholesterol in half (and) became a die-hard vegetarian." But other woes followed. Like Brandon Lee's The Crow, Dragon lost time and money to storms. Monsoons and mishaps cost Cohen his entire $1.3 million contingency fund (a safety cushion for such emergencies), swelling the budget to $15 million. Cohen then had to face the fearsome Completion Bond Company, which monitors films' expenditures and can assume control of productions that go over budget. "They set a date for pulling the plug," he says. "They wanted Dragon done and their money back ASAP." Cohen edited Dragon in six weeks, four fewer than the directors' union minimum. When Universal saw the first cut, the studio repaid the bondsmen and ponied up $1 million more for Dragon's Dolby digital fight-scene sound effects, as well as a lush symphonic score by Randy Edelman. The investment in a romantic soundtrack was appropriate. Dragon's love story between Linda and Bruce Lee, with its exploration of interracial love between a Caucasian and an Asian, is even more central to Dragon than its eight fight scenes are. All along, the filmmakers made a conscious attempt to create a movie that would appeal to both men and women.
"Ordinarily, action is skewed to men," says Jacobson, a veteran of Joel Silver's action-movie company. "You figure, well, maybe a few of them will drag their dates to see it." But Cohen deliberately infused Dragon with scenes of courtship and longing. "I think those moments really mean something for women," he says. "And this is not a difficult guy to watch with his shirt off." Despite the stunning blow of Brandon Lee's death, Cohen and Universal maintain that no eleventh-hour changes were made in Dragon's advertising campaign. "Brandon's death was never part of the marketing," insists Cohen. Even the decision to change the poster to emphasize the love story, he says, was made before Brandon's death. "If it were a chopsocky picture, you could just use a poster with Jason Scott Lee jumping across the sun," says Cohen.
"But I asked them to ghost in an image of Bruce kissing Linda above that." Inevitably, the sad, unsought publicity surrounding Brandon Lee's death has put Dragon in the spotlight, and given its climactic scene, a dream sequence in which Bruce Lee saves his young son from a demonic apparition, an emotional force it would otherwise lack. Ironically, the sequence was one of those that could have fallen victim to the belt-tightening when Dragon ran over budget; now Cohen is especially glad he was able to film it. "It was always a touching scene," the director says. "Now it's touching and chilling." Entertainment Weekly Copyright 1993 Time Inc.
Linda Lee Remembers
BRANDON LEE'S MOM REMEMBERS HIS LIFE AT GRAVESITE VISIT Linda Lee Cadwell stared at the side-by-side graves strewn with objects of devotion: pennies, poems, smooth stones, burning incense, notes and flowers turning dry in the morning sun at Lake View Cemetery.
One grave was that of her husband, the famed martial-arts hero Bruce Lee. The other, the freshest, was that of her son, actor Brandon Lee. "You just never think your kids are going to die before you," she said softly.
It was Cadwell's first look at a newly installed gravestone for her son, killed two years ago at 28 during filming of "The Crow," a shadowy, surreal film about a cult comic-book character who rises from his grave to avenge his killers.
Brandon Bruce Lee died 17 days before he was to marry Eliza Hutton, and the gravestone is a tribute to their young love.
Its two twisting rectangles of charcoal granite join at the bottom and pull apart at the top.
"It represents Eliza and Brandon, the two of them, and how the tragedy of his death separated their mortal life together," said Cadwell, who described her son, like his father, as a poetic and romantic person.
The inscription, in gold leaf, is a quote Brandon Lee had chosen for the wedding invitations, from Paul Bowles' book "The Sheltering Sky":
"Because we don't know when we will die," it begins with eerie foreshadowing, "we get to think of life as an inexhaustible well.
"Yet everything happens a certain number of times, and a very small number, really."
Cadwell said that finally seeing her son's gravestone in place gave her a sense of peace. "It brings a kind of closure. It has been 26 months to the day since Brandon died."
Her son was in the final days of production on the North Carolina set of "The Crow" when he was shot with an improperly loaded stunt gun.
The bullet entered his abdomen and severed his spine. Cadwell, charging negligence, eventually reached an out-of-court settlement with the film company of "The Crow." It included an agreement with Lee's fiancee.
Producers excised the fatal scene from the film. Cadwell, who lives in Boise, Idaho, with her third husband, Bruce Cadwell, said she initially was reluctant to see the film. "I kept saying, `I'm not going to see it, I can't bear it.' But I finally said, `I think Brandon would want me to go see it on the big screen.' "
She went to a 5 p.m. showing at a Boise theater and cried through most of it. "The whole thing is so haunting, with everything that happened." Cadwell and Bruce Lee, a philosophy graduate of the University of Washington, raised Brandon and daughter Shannon in Hong Kong, California and, briefly, Bellevue, Wash. She describes her son as "a handful" growing up, bright and playful. "He liked to pull practical jokes and pranks," she said. "He was either the teacher's pet or the teacher's nightmare."
His first role in a movie was at 6, kicking his way across the screen in one of his father's early martial-arts films. Brandon wanted to be an actor from the beginning, Cadwell said. He spent two years in drama at Emerson College in Boston before quitting to head to Hollywood.
Cadwell, who has helped set up a drama scholarship in her son's name at Whitman College in Walla Walla, Wash., said Brandon finally was realizing his dream with "The Crow," a movie that propelled him beyond action-film stereotypes. "It was a time in Brandon's life when everything was coming together," she said. "He could have done so much."
Copyright 1995 Star Tribune.
---
---