---
Top Collectors
---
MICHAEL TUDELA "SUPER BRUCE LEE COLLECTOR"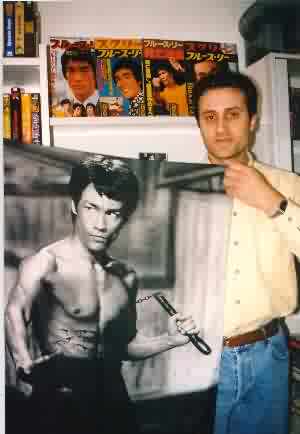 Dear Bruce Lee collectors and fanatics around the world, my name is MICHAEL TUDELA and I live in Spain. I'm an authentic Bruce Lee professional collector and fan fanatic since the golden days of 1973. I am willing to do anything to keep Bruce Lee's name alive in the very best way possible.
I would be honoured if you would like to become my penpal and friend. I wish to trade Bruce Lee memorabilia.
I collect "all" types of Bruce Lee items; VIDEOS, BOOKS, VIDEO COMPACT DISCS, MAGAZINES, CD┤S, RECORDS, DVD┤S, POSTER-MAGS, and 'all' types of publications with Bruce on the front cover. I was an honorary member in many Bruce Lee fan clubs and associations around the world.
I was the manager of the SPANISH AND INTERNATIONAL BRUCE LEE FAN CLUB in the 1980┤s and early 90┤s. There are numerous articles about my collection and my collection of Bruce Lee articles. One of these articles appeared in the USA magazine of March 1998 (Inside Kung Fu), written by my friend Jeff Chinn.
I also collaborated in the Bruce Lee wax statue at "LOUIS TUSSAUD┤S WAX MUSEUM" and I was the author of the video series the "BRUCE LEE FOTOSTORY", the first and unique Bruce Lee magazine in the world. I have a fantastic collection of Bruce Lee video's and many have rare footage of Bruce in action.
I wish to trade with many other fans around the world, please email, fax or phone to ;
MICHAEL TUDELA
APARTADO DE CORREOS NUM. 937
C.P. 03200 ELCHE (ALICANTE)
ESPAĐA / SPAIN
E-MAIL: brusli@wanadoo.es.
---
Click on any of the links below to see MICHAEL TUDELA and his fantastic collection.
---
IN SPANISH / EN ESPAĐOL:

MICHAEL TUDELA "SUPER" COLECCIONISTA DE BRUCE LEE:

MI NOMBRE ES MICHAEL TUDELA Y VIVO EN ESPAĐA. SOY UN AUTENTICO Y VERDADERO COLECCIONISTA PROFESIONAL DE BRUCE LEE DESDE LOS LEJANOS DIAS DE 1973. TENGO UN INTERES MUY ESPECIAL POR COLECCIONAR MATERIAL DE BRUCE LEE PROCEDENTE DE TODAS PARTES DEL MUNDO.

HE SIDO MIEMBRO DE HONOR DE MUCHOS CLUBS DE BRUCE LEE DE TODAS PARTES DEL MUNDO. TENGO UN EXTENSO CURRICULUM EN RELACION CON BRUCE LEE. SOY EL AUTOR DE LA SERIE EN VIDEO TITULADA "BRUCE LEE FOTOSTORY" QUE REALICE EN EL TIEMPO QUE DIRIGI EL CLUB INTERNACIONAL DE BRUCE LEE AQUI EN ESPAĐA. TENGO UNA DE LAS MAYORES COLECCIONES DE BRUCE LEE DEL PLANETA Y EN EL TEMA DEL VIDEO, QUIZA POSEA LA MAYOR COLECCION SOBRE BRUCE LEE EN EL MUNDO CON PIEZAS REALMENTE RARAS Y EXTRAORDINARIAS.

COLECCIONO MATERIAL DE BRUCE LEE DE TODO TIPO:
LIBROS, VIDEOS, POSTERS, REVISTAS, CD┤S, DISCOS, VIDEO COMPACT DISCS, REVISTAS-POSTERS, DVD┤S, FIGURAS, ETC., ETC.

TAMBIEN TENGO UNA TREMENDA BARBARIDAD DE MATERIAL PARA INTERCAMBIAR, CON COSAS MUY INTERESANTES.

SI ERES UN COLECCIONISTA DE BRUCE LEE Y ESTAS INTERESADO EN INTERCAMBIAR MATERIAL O DE VENDERME MATERIAL, NO DUDES EN ESCRIBIRME, LLAMARME POR TLFNO. PONERME UN FAX O ENVIARME UN E-MAIL A LA SIGUIENTE DIRECCION:

MICHAEL TUDELA
APARTADO DE CORREOS NUM. 937
C.P. 03200 ELCHE (ALICANTE)
ESPAĐA / SPAIN
E-MAIL: brusli@wanadoo.es.

DESEO CONTACTAR CON TODOS LOS COLECCIONISTAS DE HABLA HISPANA DE TODAS PARTES DEL MUNDO. SI ESTAS INTERESADO EN INTERCAMBIAR MATERIAL DE BRUCE LEE O PUBLICACIONES EN LAS QUE APAREZCA EN LAS PORTADAS, MANDAME TU LISTADO DE TU MATERIAL PARA INTERCAMBIAR.

IN FRENCH / EN FRANCES / FRANšAIS

MICHAEL TUDELA, "SUPER" BRUCE LEE COLLECTIONNEUR:

CH╩RE BRUCE LEE COLLECTIONNEURS / FANS: MON NOM EST MICHAEL TUDELA ET JE RESIDE A ELCHE (ALICANTE) EN ESPAGNE. JE SUIS UN COLLECTIONNEUR PROFESSIONNEL ET UN VERITABLE FAN DE BRUCE LEE DEPUIS 1973. JE SUIS UN FANATIQUE DE BRUCE LEE ET DE SA PHILOSOPHIE A TRAVERS LE MONDE. J┤AI POUR IDEAL MAINTENIR VIVE LA M╔MOIRE ET LA L╔GENDE DU LE "PETIT DRAGON".

J┤AI ╔T╔ MEMBRE HONORAIRE DE PLUSIEURS CLUBS DE BRUCE LEE DANS LE MONDE, AINSI QUE DE PLUSIEURS ASSOCIATIONS. J┤AI ETROITEMENT COLLABOR╔ DANS LA CREATION D┤UNE STATUE DE CIRE DE BRUCE LEE EXPOS╔E AU "LOUIS TUSSAUD┤S WAS MUSEUM".

DURANT ANS, J┤AI REALIS╔ UNE SERIE DE PROGRAMMES DE VIDEO INTITUL╔S "BRUCE LEE FOTOSTORY" ENTI╩REMENT CONSACR╔S ┬ LA BIOGRAPHIE DE BRUCE LEE AINSI QU┤AUX ARCHIVES PHOTOGRAPHIQUES RELATANT SA VIE. JE DESIRE CONTINUER APROFONDIR MES CONNAISSANCES SUR LE PETIT DRAGON ET SA VIE. JE LANCE UN APPEL ┬ TOUS CEUX COLLECTIONNEURS FRANăAISES QUI DESIRENT ECHANGER MATERIEL SUR BRUCE LEE AVEC MOI: LIVRES, REVUES, ┤CD┤S, DISCS, CASQUETTES, VIDEOS, POSTERS, ETC., ETC. ENVOIE TON LISTE DE MATERIEL POUR ECHANGER A:

MICHAEL TUDELA
APARTADO DE CORREOS NUM. 937
C.P. 03200 ELCHE (ALICANTE)
ESPAĐA / SPAIN
E-MAIL: brusli@wanadoo.es.

JE M┤ADRESSE DONC ┬ CEUX DONT MON ID╔E (ECHANGER BRUCE LEE MATERIEL OU AVEC BRUCE LEE DANS COUVERTURES DE LIVRES, REVUES, ETC., ETC.) LES INTERRESSENT ET LES INVITENT ┬ SE METTRE EN CONTACT AVEC MOI.
---
A link from the author of The Orhan (Hoo Chwoon) at 'The Orphan.'.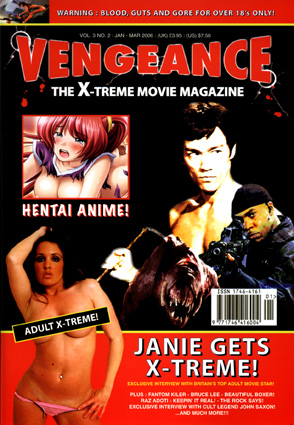 ---
---