My favourite Bruce Lee film. With the Big Boss playing to packed houses and Kung Fu sweeping a dozen countries, it was no easy task for Bruce to come up with a second film that would better his first starring role.
His second film Fist of Fury did just that. This film smashed all the previous records set by Big Boss. The film was called The Chinese Connection in the USA.
Set at the turn of the century in Shanghai, Fist of Fury is based on a true story - the murder of a Chinese martial arts teacher by treachery, and his students fight to bring justice and revenge to the assassins.
However Bruce, as the student Chen, finds himself up against not just two murders, but a whole school of Japanese Karate school students. Secretly he enters the school, defeats both the chief instructor and a famed Russian Karate expert, and fights a savagely violent duel with the school principal.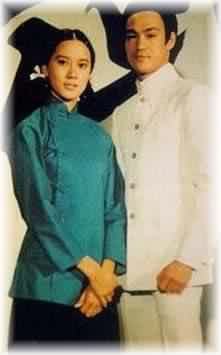 Using for the first time the famous 'NUNCHACU ' - two heavy wooden clubs 18 inches long and joined by a foot long chain (a Bruce Lee trademark in the rest of his films) - Chen avenges his masters death by killing his opponent.
"I had to use sort of weapon", said Bruce after the release of the movie. "After all, that guy was coming for me with a sword, and no man can use bare fists against a sword".
Fist of Fury sealed Bruces success. Made for just 200,000 dollars, it grossed a million dollars in Asia alone.