---
Press Releases
---
"the net" magazine (March 2000), completed a review on the Bruce Lee Club site.
This is what they had to say about us.........Don't be fooled into thinking people take up martial arts for self defence purposes or to aid their holistic development; usually they have just spent too many post-kebab late nights slumped in front of Enter The Dragon.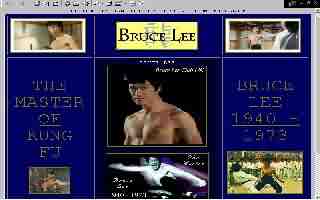 The Brits behind this site certainly have an obsession for the oriental fighting machine, compiling an exhaustive reference guide to his films and his life - and even the techniques he made famous.

**** out of 5.
---
.net magazine (June issue), ran a colour spread with help from Blackstar Videos on the Bruce Lee Club. The article outlines the information on the site including film/video reviews, mailing list and guestbook of Bruce's films.

Computerive Active (June 15th Issue), gave the Bruce Lee club a centre piece spread in the self defence section, the article outlines an overview of the site including its attraction to fans around the world on Bruce Lee.